THE CORPORATE MENTORING PROGRAM (CMP)
Corporate Mentoring Program (CMP), an industry leading performance driven model that mitigates supplier performance risk, fosters performance transparency, and drives competitive positioning and innovation discovery.
The CMP Roadmap Training Phases are: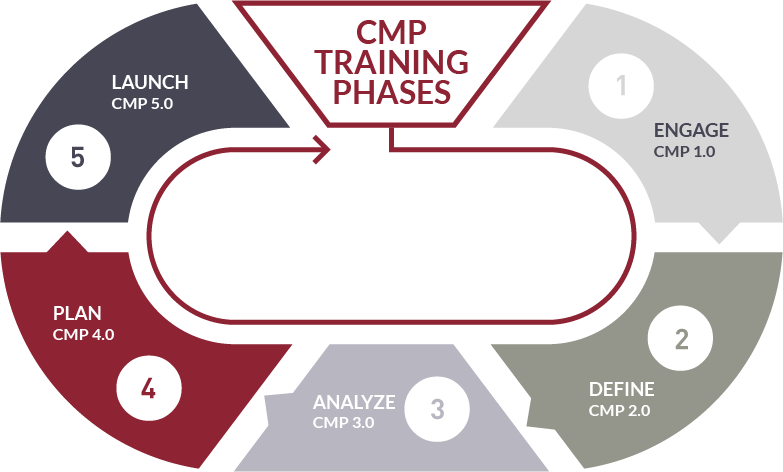 The curriculum content of each training phases is integral to the six service level engagement steps.
CMP 1.0: Corporate Mentoring Program (CMP) Overview
Description: Understanding of CMP Purpose and Objectives; Review of CPM Implementation Phases, Overview of CMP and On-Boarding Requirements
CMP 2.0: Organizational and Performance Benchmarking Readiness
Description: Organizational Readiness for Performance Benchmarking: Supply Chain Definition and Identification, Unique Supply Chain Strategy Development, Data Collection
CMP 3.0: Performance Benchmarking
Description: Data Upload to PriceWaterhouseCooper (PwC), Supply Chain Performance Benchmarking; Receive PwC Performance Benchmarking Report; Operational Maturity Benchmarking; and Sustainability Metrics for Improvement:
CMP 4.0: Analysis, Improvement, and Deployment
Description: Performance Benchmarking Report, Metric Defect Analysis and Root Cause Assessment; Identification of Best Practices to close Performance Gaps; Material Flow Development: Performance Improvement Work Plan and Functional Chart by RACI; and, Workforce Improvement Plan (WIP)
CMP 5.0: Development, Expansion, and Continuous Improvement
Description: Strategic Improvement Plan (SIP); Strategic Risk Mitigation Actions; Performance Certification, Continuous Improvement Actions: Optional Site Visit. Performance Dashboard (CMP Supplier Network)
The CMP CERTIFICATION tab depicts the certification levels. The SERVICES tab depicts how the CMP is systematically managed in the field.