ACCELERATE2024

June 22, 2023 SYMPOSIUM
Disruption is the new norm in rapidly transforming digitalized and ESG-driven supply chains. Minority small-midsize manufacturers' (SMMs') reliance on organic growth to be competitive and meet customer need for resiliency and volume demand can result in marginalization. To empower minority SMMs to have significant community economic impact in underserved communities, this event focuses on how to accelerate (1) their capability development and capacity expansion through the resources of selected entities in the below depicted Diverse Manufacturing Alliance (DMSCA) Ecosystem; and (2) through Supplier Member presentations on how Ecosystem Financial and Funding Capital Assistance Partners could potentially support capacity expansion.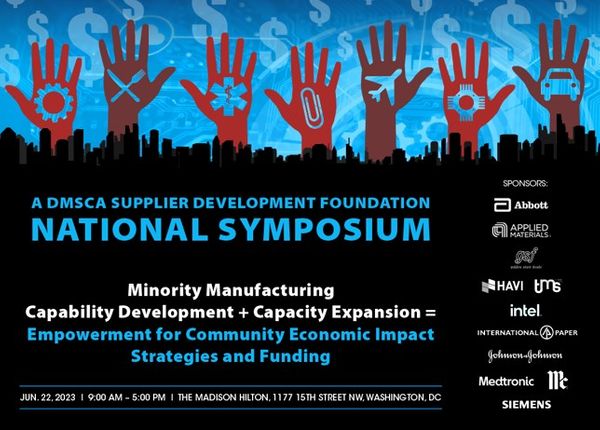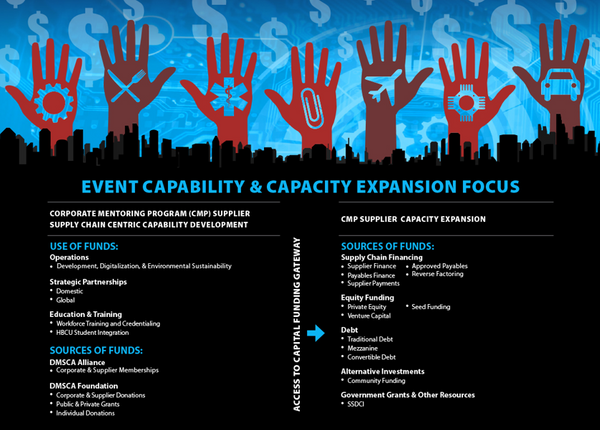 February 28- March 2, 2023

ACCELERATE2023 - The DMSCA National Education and Training Conference
This event brings together DMSCA Corporate Members, Guest Corporations, DMSCA Supplier Members, invited Guest Suppliers, Subject Matter Experts, and Advocacy Organizations in an intimate environment conducive to relationship building and learning on such matters as supplier integration in data-driven digitalized supply chain networks and Environmental, Governance, and Environmental (ESG) driven circular supply chains.. Participants will also hear about case studies from both MNEs and SMMs..
ACCELERATE2023: Join us for an informational and interactive session on development, digitalization and sustainability. This year's conference will be held at the Westin Bayview Hotel in San Diego, CA. This year's event focuses on developing Small and Midsize Manufacturer (SMM) Smart Factories. Additional information regarding the agenda, sponsorship and early bird registration will be available soon.
A Procurment Leaders' Forum - The Impact of Transtion from Linear to Circular Supply Chains on Supplier Diversity
This closed event under Chatnum House Rules will bring together procurement leaders and invited suppliers to address how trust-based relationships between suppliers and customers can be developed during large corporations transitioning to Environmental, Sustainability, and Governance (ESG) driven circular supply chains. To address these issues, participants will engage in general, breakout, and industry group-level discussions.